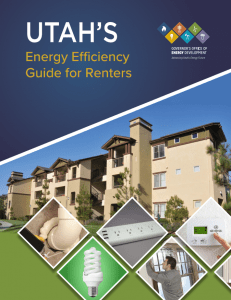 If you rent your home or apartment, it may seem like you have limited options to be more energy efficient, but there are actually dozens of actions you can take today to make your home more comfortable, while also saving energy and money! Utah Clean Energy with the Office of Energy Development created the Energy Efficiency Guide for Renters for all Utah renters interested in reducing their energy waste and saving on utility bills.
While more significant energy efficiency upgrades – such as replacing a furnace, upgrading windows, or insulating the attic – are actions that require larger investment and approval from a building owner, the Energy Efficiency Guide for Renters includes 25 different actions that renters can take on their own to save energy at home. This includes tips for reducing air drafts, using efficient lighting and power strips, ways to reduce heating and cooling costs, and energy saving tips when doing laundry. The Guide highlights how easy each energy-saving action is and provides a range of potential energy savings.
To top things off, the guide provides information about financial incentives available to renters, and low- and no-cost resources such as the In-Home Energy Plan offered by Dominion Energy's ThermWise program and the Wattsmart Starter Kit provided for free through Rocky Mountain Power's Wattsmart program.
In addition to actions renters can take, the guide provides actions, programs, and best practices for landlords to improve the energy efficiency of their property including things like insulation and window upgrades.
Download Your Free Energy Efficiency Guide for Renters