Solar incentives and tax credits can help reduce the cost of installing solar for both residential and commercial energy users. Please be sure to consult with a tax expert regarding your situation and review all the guidelines and rules carefully.
Federal Solar Tax Credit
These days, one of the best incentives most people can get to help reduce the cost of installing solar is the Federal Solar Tax Credit, also known as the Investment Tax Credit (ITC). The ITC is a 26 percent tax credit for solar systems on residential and commercial properties. There is no dollar amount cap amount on the ITC, but it is important to note that it is a non-refundable tax credit, meaning the amount of credit you are eligible for is tied to your tax liability. We've said it before and we'll say it again, talk to a tax expert.
Important Dates! The Federal Solar Tax Credit is phasing down. Starting in 2023, the commercial and residential tax credits will step down.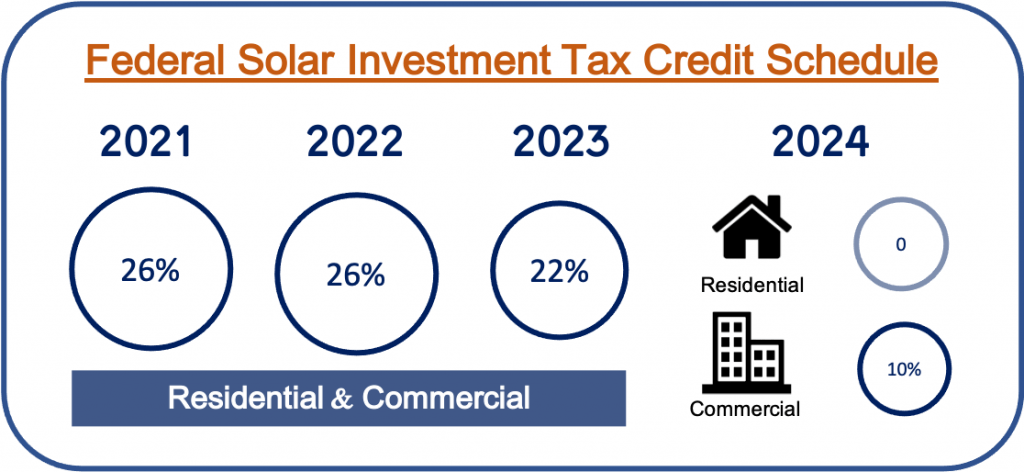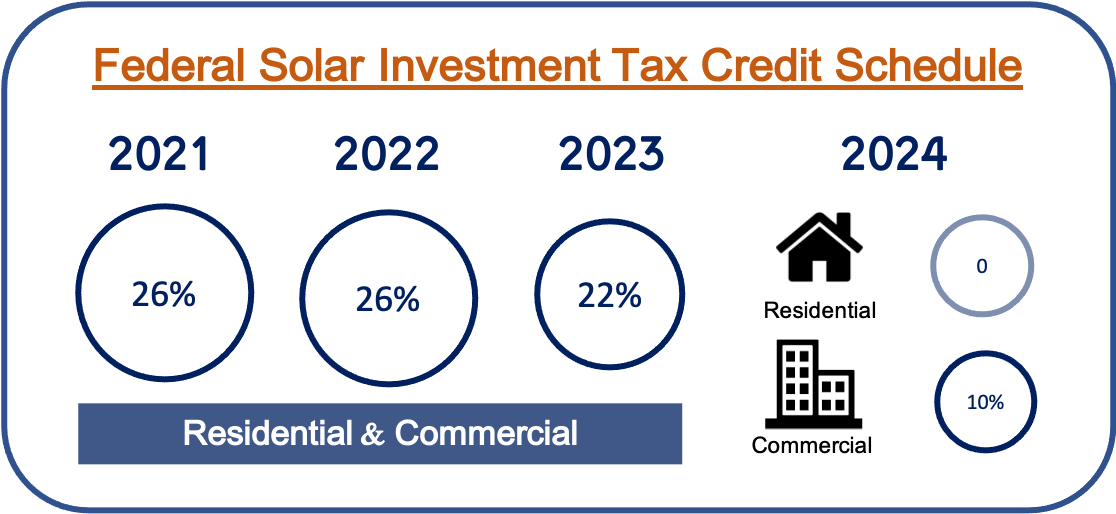 Qualifying for the Federal Solar Tax Credit: Eligibility for the ITC is slightly different for residential and commercial solar installations. Residential solar installations must be "placed in service" in order to receive the tax credit, whereas commercial installations receive an incentive based on the date they "commence construction. This means that installations must be complete by the end of 2019 to be eligible for the full 30% tax credit. Alternatively, commercial customers must "commence construction" to qualify. The Solar Energy Industry Association has a helpful outline that explains the requirements taxpayers must meet to claim the ITC.
Utah Solar Tax Credit
Residential: Local incentives for local people! The Utah solar tax credit, officially known as the Renewable Energy Systems Tax Credit, covers up to 25% of the purchase and installation costs for residential solar PV projects, capped at $1,600, whichever is less. Learn more and apply here.
The Utah residential solar tax credit is also phasing down. The cap dollar amount you can receive begins to phase down as follows:
25% capped at $1,200 until 12/31/21
25% capped at $800 until 12/31/22
25% capped at $400 until 12/31/23
Utah tax credit expires in 2024
Commercial: A rooftop solar tax credit is also available for larger commercial projects! The commercial Investment Renewable Energy Systems Tax Credit, for solar photovoltaic systems, is refundable and covers up to 10% of the eligible system cost or $50,000, whichever is less. The Commercial incentive can only be claimed on the same year's taxes as when the solar system was installed. Learn more and apply here.
Things to consider if you sign a Power Purchase Agreement (PPA)
As long as you own your solar energy system, you are likely eligible for the solar tax credit. If you opt to sign a lease or PPA with a solar installer, you may not be not the owner of the system, and thus you may not be able to receive the tax credit. If you use a financing arrangement through which a third-party owns your solar panels, the company you are working with may be eligible for the commercial tax credit. Again, contact your tax consultant to review your eligibility.
There are no utility incentives for rooftop solar
Alas, Utah's utilities no longer provide rooftop solar incentives. But if you decide not to own your solar but want to invest in cleaner energy, you can sign up for Rocky Mountain Power's Subscriber Solar program. Residents of to Logan and St. George can also purchase "shares" from a solar farm to offset your energy consumption with solar power.